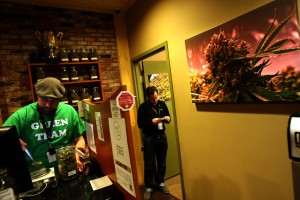 Every morning when we check our e-mail, there's another handful waiting for us. They continue to come in throughout the day, as well as phone calls, and the occasional office pop-in (please, make an appointment!). As more and more states approve medical marijuana, people want to know how to find a job in this industry. We'll be looking to boost our own staff soon, so here are a few tips if you're looking to impress.
Volunteer in the Community
There are no shortage of volunteer-based organizations in our field, including NORML, SAFER, SSDP, ASA, and MPP to name a few that could use your help. Just being an avid marijuana enthusiast isn't enough, generally, to land you a gig. Establish a strong track record as someone who is dependable and motivated is a great way to get yourself noticed. If there isn't an organization in your area, contact the national office and find out about starting your own chapter. As the founders of the Denver Relief GREEN TEAM, we place a high value on community service and individuals who give back where they live.
Study Horticulture Concepts
While cannabis is a very unique plant, there are many ways that a traditional education in horticulture can benefit you. Our own Nick Hice has experience in plant nurseries, garden centers, and landscape design, as well as multiple certifications under his belt that constantly aid him. From integrated pest management to cultivation in controlled environments, there's always something else to learn on the "grow" side of operations. Having this knowledge can help transitioning from the conventional to cannabis.
Learn the Lingo
Knowing the difference between indica and sativa is just the beginning when it comes to the complicated terms surrounding cannabis. Can you explain what a trichome is to a patient? How about the difference between clear and amber trichomes? How many cannabinoids, the chemical compounds present in cannabis, can you identify? Do you know what symptoms they treat? Having a strong grasp over a myriad of different specializations within this field will set you apart.
Basic Legal Knowledge
Understanding state laws and being able to speak confidently and authoritatively about them sets you apart when talking to patients and clients. We're usually the first place people come to when they're unsure of exactly what's going on in their state. These can change frequently, as well, so get on mailing lists and subscribe to RSS feeds for the latest news. With 20 medical states and the District of Columbia, there's always more to learn.
Have Realistic Expectations
At the end of the day, a medical marijuana center is no different from many retail environments. Trimming is hard, repetitive labor that requires focus and great posture to avoid aches and pains. Working in this field can be immensely rewarding, as you meet patients that have truly improved their lives with cannabis. Their stories can take an emotional toll, as well, as they struggle with life-threatening conditions. You need to be prepared for all of these realities.
Submit a Resume and Cover Letter
This may seem like a no-brainer, but you'd be surprised how many people simply don't think they need to give us these basics. We understand you probably haven't worked in the medical marijuana field before, but a great candidate will find ways to apply their previous work to the position they're applying for.
Hygiene
Another thing falling under the category of no-brainers, this isn't a college dorm room, so avoid showing up reeking of pot (or liquor) and be presentable. We often have clients in our offices and it's important that we put our best foot forward.
This is only a basic guide, and does not constitute an offer for employment. What jobs are you looking at in the cannabis industry? What questions do you have? Leave us a comment below.