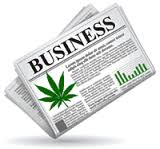 Curious as to how a marijuana dispensary such as Denver Relief – one of the first Colorado cannabis businesses – has managed to thrive in a constantly changing regulatory landscape that saw the recent introduction of an extensive (and expensive) new set of rules on medical pot?
Ever wonder how Steve DeAngelo turned Harborside Health Center into the largest, most high-profile medical cannabis dispensary in the country, one that rakes in more than $20 million annually and is the subject of the "Weed Wars" reality show?
Now you can find out.
Denver Relief co-founder Kayvan Khalatbari and Harborside's DeAngelo are among the cannabis industry leaders highlighted in Medical Marijuana Business Daily's new book titled "How to Succeed in Medical Marijuana: 7 Dispensaries' Business Secrets."
Read more: New Cannabis Book: Secrets to Medical Marijuana Success from 7 MMJ Dispensary Owners